A person's genome undergoes changes throughout their life, many of which are subtle and gradual as they age. But what if you could track these changes and discover whether you were at risk for a health issue that hasn't happened yet?
One of Seragon Pharmaceuticals' projects is GenomeScore®, an artificial intelligence analytic tool which seeks to enlighten the patient on the epigenetic changes going on within their cells. Based on algorithms continually improved through machine learning, the system will generate a customized report on an individual's overall health. This contains a neural network-trained assessment of the individual's genome, including differences in DNA methylation and gene expression - quantitative results which can predict the onset of developing health concerns. The results can then be privately and conveniently accessed and shared with health providers to deliver a qualitative assessment backed by clinical judgment.
We believe diversity propels innovation forward.
What we're doing
Our epigenetic interface analyzes your genome from a number of non-intrusive sources including saliva or blood samples. Neural networks will then process your genome and discover characteristics which correlate with particular phenotypes and physiological parameters. These findings are then compared to the general population to reveal your genome's personal performance. You may then work together with a physician to come up with your own personalized health assessment.
About artificial intelligence and its role in genomics
Genomics is the study of a genome, a collection of all of a person's genes, and the interaction between those genes with each other and the environment. It is a comprehensive field which bridges small-scale modifications at the genetic level and their large-scale implications. The Human Genome Project estimates humans to have anywhere from 20,000 to 25,000 genes and as a result, genome analysis tools are important in discovering genome trends within the human population.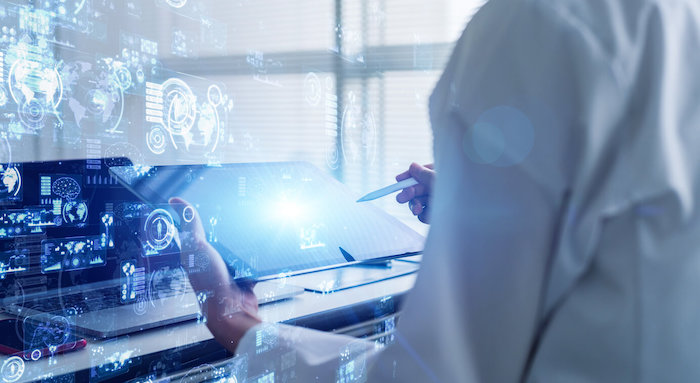 Artificial intelligence (AI) is one of the most innovative fields within genomics, streamlining research through deep learning and streamlined data analysis. Trained by processing collections of human-reviewed data, AI systems can gradually learn about subject matters and develop algorithms through neural networks and deep learning. This allows AI to identify and process a higher quantity of information compared to human input, while honing its ability to interpret trends and predict outcomes. The strength of AI-driven genomics is apparent in certain examples where a trained AI network's pattern recognition abilities can be utilized. The combination of genomic analysis systems with computer vision algorithms has been used to guide diagnostics of cancer treatment and genetic disorders.
The advent of AI technology brings a more efficient way of processing and classifying large sets of data points. Neural networks and deep learning show strengths in genome analysis and prediction and continue to be improved as algorithms learn to make predictions more personalized and accountable of human factors.